HOLOCAUST BRUNCH, Chutzpah! Festival / ITSAZOO Productions, in development
A SECRET LIFE, Theatre503 / Wandsworth Arts Fringe, May 2016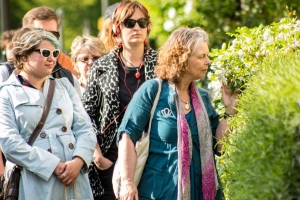 'It felt like being in thrall to the wonderful raconteur in your family.' –There Ought to be Clowns
Do you know what goes on in my head? Do I know what goes on in yours? Maybe it's not what either of us expects … Follow our characters on an everyday journey through Battersea, hearing their inner thoughts via an app previously downloaded to your smartphone. A promenade theatre piece using digital media, inspired by intergenerational workshops with local people living in South London.
Commissioned by Baseless Fabric Theatre with support from the Wakeham Trust. Developed in residency at University of the Arts London, Wimbledon Space.
WINK THE OTHER EYE, Hackney Showroom, London, 2015
For this night only: The Queen of Music Hall, Marie Lloyd, performs a series of her best-known songs together with 'real events' from her life. An evening that promises: songs from a long-lost London, debauched merriment, fine beers and wines. A performance also featuring: The raucous atmosphere of the music hall. Exquisite silk dresses. A glimpse behind the elusive mask of fame … Featuring Mr. Bernard 'Ben' Dillon, Mr. Percy Charles Courtenay, 'The King's Jester' Mr. Dan Leno, and famed singer Mr. Alec Hurley, one-time husband of Marie Lloyd …
Supported by Arts Council England and Snapper Productions. Developed at Hackney Showroom with Amanda Butterworth, Ronan Fitzgerald and James Welland.
https://soundcloud.com/winktheothereye
WHAT YOU'RE MISSING, Chutzpah! Festival, 2015 / King's Head Theatre, London, 2014
'A laugh-out-loud snapshot of family dynamics.' –Vancouver Presents
Isabel and Ed are a young couple living in the shadows of two different histories – the Eastern European and Chilean Jewish experiences. It's 1973 in Canada, and they really like each other – and each other's parents. They want to embark on their own journey, but first they must do battle at home. As their two families meet, eat, misinterpret and overreact, will the older generation be a help … or a hindrance?
Nominee at the 2015 Jessie Richardson Awards (Outstanding Supporting Actress, Outstanding Costume Design). Developed through the Without Decor scheme, King's Head Theatre.
FANTASMAGORIANA, 2011 Edinburgh Festival Fringe
'A frolic through a traditional, quintessentially English passion for poetry and the art of writing … definitely worth a look.' –BroadwayBaby
Having fled Britain in scandal, Lord Byron is pent up in Geneva with writer's block and a male lover. Mary and Percy Shelley have come to visit, but why? And what will they all do amid the nonstop rain? What starts as an innocent writing contest, to quicken the heart and curdle the blood, spawns surprise arrivals, rivalries and romance – and the most infamous monster the world has known. Join this motley group as they clash, picnic and witness the birth of … Frankenstein! Mad, bad and dangerous to see.
Supported by the Cambridge University Amateur Dramatic Club.
Short plays:
You Know That I'll Be Back, Theatre503, London, 2015
One Two Three, Scratch That Hackney, Hackney Picturehouse, London, 2013
The Valley, Stage Write Festival, The Place, Bedford, 2013
Cabin Fever, Bush Bounce 3, Bush Theatre, London, 2013