Working title: HINEINI, Chutzpah! Festival / PL1422 / ITSAZOO Productions, in development
A SECRET LIFE, Theatre503 / Wandsworth Arts Fringe, May 2016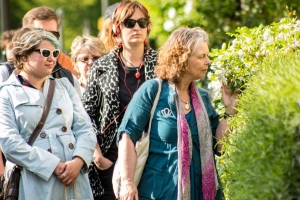 'Such is Micner's skill here, it felt like being in thrall to the wonderful raconteur in your family.' –There Ought to be Clowns
Commissioned by Baseless Fabric Theatre.
Developed in residency at University of the Arts London, Wimbledon Space.
Supported by the Wakeham Trust.
WINK THE OTHER EYE, Hackney Showroom, London, 2015
For this night only: The Queen of Music Hall, Marie Lloyd, performs a series of her best-known songs together with 'real events' from her life. An evening that promises: songs from a long-lost London, debauched merriment, fine beers and wines. A performance also featuring: The raucous atmosphere of the music hall. Exquisite silk dresses. A glimpse behind the elusive mask of fame … Featuring Mr. Bernard 'Ben' Dillon, Mr. Percy Charles Courtenay, 'The King's Jester' Mr. Dan Leno, and famed singer Mr. Alec Hurley, one-time husband of Marie Lloyd …
Developed at Hackney Showroom with Amanda Butterworth, Ronan Fitzgerald and James Welland.
Supported by Arts Council England and Snapper Productions.
https://soundcloud.com/winktheothereye
WHAT YOU'RE MISSING, *Chutzpah! Festival, 2015 / King's Head Theatre, London, 2014
'The script's greatest strength is its ability to appreciate families in both their eccentricities and their depth.' –Georgia Straight
*NOMINEE Jessie Richardson Awards Outstanding Supporting Actress 2015
*NOMINEE Jessie Richardson Awards Outstanding Costume Design 2015
Developed through the Without Decor scheme, King's Head Theatre.
FANTASMAGORIANA, 2011 Edinburgh Festival Fringe
'A frolic through a traditional, quintessentially English passion for poetry and the art of writing … a fascinating group of people involved in one of life's most beautiful pastimes, and definitely worth a look.'–BroadwayBaby
Supported by the Cambridge University Amateur Dramatic Club.
Short plays:
You Know That I'll Be Back, Theatre503, London, 2015
One Two Three, Scratch That Hackney, Hackney Picturehouse, London, 2013
The Valley, Stage Write Festival, The Place, Bedford, 2013
Cabin Fever, Bush Bounce 3, Bush Theatre, London, 2013